Joel
Founder
Mystic, Polyglot, Yogi, Vegan Chef, Poet, Classical Musician, Jeweler and Lover of Life… Joel has drowned himself in the ocean of Yoga and never came back. He was first initiated in a traditional Kriya Yoga path in 2000, which sparked a period of 10 years of intensive Sadhana, Self inquiry and Self discovery. Joel met his gurus, Sri Karunamayi, Sri Shivabalayogi and Sri Amritanandamayi Ma around 2005 and spent years studying Integral Yoga and absorbing the wisdom of Being from the presence of many great saints, sages and enlightened masters. Since 2010 Joel has dedicated his time and energy to maintaining a sacred space to explore and experience this great Joy and Freedom of Awakening through Integral Yoga, conscious living, community and creativity. Joel advocates simple and healthy living, coming back into harmony with the natural cycles of Life, and integrating the Body, Heart and Mind as a conscious wholeness. He has great respect for traditional culture and integrated living, which is one of the reasons that he set up his center for Integral Yoga and Awakening in Siem Reap, Cambodia near the ancient temples of Angkor. Joel is present and teaching during almost all of the retreats and is available for questions. One book of dharma talks, The Foundations of Stillness, was published in 2013. There are currently two more books of talks from early 2014, Seeds of Dharma, which will be released later this year.
Ryan
General Manager
Ryan is a scribbling nomad. He has traveled the world by many means. Yachts. Tuk-tuks. RV's. Motorcycles. Kayak and foot. His path an expression of seasonal ambling. Though his geographic coordinates have been in a steady flux his destination has remained constant; The Present Moment.
As a long-time practitioner of mindfulness and conscious living he has immersed himself in the culture of self-exploration. His passion for deeper understandings has guided his travels both inward and out. He has carried a personal practice of yoga and meditation with him for the last 20 years and considers that to be just the beginning of a lifetime of learning. He passionately advocates global sustainability and works to leave the world in a better place than he found it.
In 2015 he completed a 200 hour teacher training with Absolute Yoga Academy in Koh Samui, Thailand. That experience spilled into a year of mindfulness courses, yoga festivals, travel writing, and conscious pursuits. In the spring of 2016 he embraced the manager's position at Hariharalaya and enjoys the love and inspiration afforded to him by the retreat center's community.
Lexi
Assistant Yoga Teacher
Hailing from Indianapolis, Indiana, from a young age Lexi was curious in ways of life outside her Midwestern upbringing. Exploring the subject of Eastern religious thought as a teenager first sparked Lexi's interest in yoga. Upon experiencing the healing value of the practice both emotionally and physically, Lexi took the next step of her yoga journey by moving to Hawaii for a summer to live in a spiritually-based community. It was there that Lexi began to understand yoga as not just an asana, but as a way of life.
Her Hawaiian adventure inspired her to study in India, where she was enthralled to experience a way of life that oozed both spiritual and philosophical fragrances. Following her heart and anthropological curiosity led her to further integrate in cultures throughout the world including India, Greece, Tobago, Tanzania, Spain and Peru. Adventuring through the vast, colorful, and diverse gardens of life on Mother Earth brought her to a path where no trail or mode of modern transportation could ever take her, the path of cultivating her own inner garden. Lexi completed her 200h teacher training through the Inbound School of Yoga in the Sacred Valley of Peru, studying under Chaitanya Nitai Das. Nowadays, Lexi continues the journey inward by dancing through life and splashing in light and joy.
Julia
Senior Yoga Teacher
Julia was introduced to yoga at a young age through her dance teacher, later in life she found it again and it became a daily routine and sanctuary. Finding teachers and a yoga community she immersed herself into classes, workshops and teachings and it quickly became a passion and a new way of living life.
She travelled to northern India in 2013 to do a teacher training in Rajadhiraja yoga and then to Kerala to start studying Ayurveda. After a year teaching yoga in England she returned to India to complete another teacher training in Vinyasa Flow. She has also studied pregnancy yoga, reiki and recently travelled to Thailand to start studying Thai yoga massage.
She loves to flow the body with the breath, dancing into Asanas before finding strength and stillness. Also using touch to guide students into their asana and to help them find stillness in the body and mind.
Tessa
Yoga Teacher
Blessed to be raised vegetarian by mindful parents and encouraged to truly be her adventurous self, Tessa left her small hometown in the rural east coast at the age of 17 to find out what life had in store for her. Landing in Seattle, WA, she spent the next 8 years deepening her awareness through cultivating a yoga and meditation practice, discovering dance, working with vibrant vegan food, learning music, living in community, and nurturing a deep love for exploring nature, especially natural hot springs!
In 2005, Tessa truly embraced the traveling spirit within and set off on a journey to SE Asia India, and New Zealand that evolved into a nomadic lifestyle. Throughout the last 12 years she has dived deeper into her study of yoga, completing her teacher training with Frog Lotus Yoga in 2010. Throughout the years, she furthered her studies with returning to Thailand to study Thai massage, which she discovered through the playful practice of AcroYoga, another one of her passions.
When Tessa isn't traveling the world teaching, studying and sharing her deep loves of yoga, healing and meditation, she can be found in living in her gypsy wagon in Northern California, amongst community, fairies, and gardens full of food!
Caybin
Assistant Manager
From a small beach town in Australia Caybin had always been raised with a connection to nature. He was fortunate enough to be instilled with this balancing lifestyle from a young age. His first yoga experience was with a sunrise on the beach. Serendipitously Yoga became the bridge for connection to the true nature of being through every sunrise and sunset.
This practice became daily medicine for breaking the virus of seriousness that can manifest within the mind. Integral yoga rapidly became a way of life which led to a more simple lifestyle experiencing self-sustainable communities, vegan life, living with yoga teachers and healers.
The yogic path led him to Hariharalaya as a guest where he wished to continue deepening his personal practice. This experience inspired Caybin to further his passion in the art of yoga and mindful living through India and Nepal. After, completing his 200 hour YTT in Hatha and Ashtanga in Rishikesh, India he began teaching in the Himachal Pradesh, India. With an unexpected pirouette in this cosmic dance of life Caybin was graciously called back to Hariharalaya. This time with the intention to share, learn, grow and create a space for other like minded souls to experience the peace and beauty that lies within the stillness.
Nu
Assistant Yoga Teacher
Nuraini, commonly known as 'Nu', developed her passion for yoga after experiencing chronic back pain, which turned out to be a blessing in disguise. Although she was initially attracted to this practice for its physical benefits, it wasn't long before she embraced yoga as a way of life, something which complemented her beliefs in healthy, mindful, and simple living.
After being a guest here at Hariharalaya, Nu was inspired to take leave from her job as a midwife and follow her passion for yoga and travel, diving into a journey of self exploration. In 2016 she completed her 200hr Hatha and Vinyasa yoga training in Rishikesh, India. Since then, she has worked as a yoga teacher at a surf camp in South Africa, and has now come full circle to teach and inspire guests as a member of our team.
When she is not travelling around, she can be found delivering babies or playing music in Melbourne. She hopes to continue her training in prenatal, yin, and restorative yoga when she returns to Australia.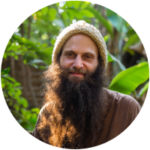 Mystic, Polyglot, Yogi, Vegan Chef, Poet, Classical Musician, Jeweler and Lover of Life… Joel has drowned himself in the ocean of Yoga and never came back. He was first initiated in a traditional Kriya Yoga path in 2000, which sparked a period of 10 years of intensive Sadhana, Self inquiry and Self discovery. Joel met his gurus, Sri Karunamayi, Sri Shivabalayogi and Sri Amritanandamayi Ma around 2005 and spent years studying Integral Yoga and absorbing the wisdom of Being from the presence of many great saints, sages and enlightened masters. Since 2010 Joel has dedicated his time and energy to…